Phew a lot happened in 2018!
The first year of my arts psychotherapy degree is under my belt and the results were really good. Thankfully my hard work paid off.
Since I lodged the last essay on december 3, I have been working on a number of projects at Canefields Clubhouse and Tammy's art studio.
 the Executive Director of Canefields Clubhouse asked me if the art group (we have plans to rebrand this year) would do a mural for the bland wall space where the cafe is. It was to be like looking out of cafe windows at things that one might see in some places in Australia. 
My creative mojo kicked in and I thought of the rainforest, the desert and the ocean as three outstanding examples of Australian environments with their amazing wildlife. When I present this idea to Jak he was sceptical but i persisted. The members helped collaborate on what styles of environments we would paint and chose the feature animals, birds and fish that would populate the mural. 
The panels measured approximately 1m wide and 3m high each and there were 3 of them to paint. 
This was going to be no easy task. 
I have to be honest here. At the end of the first week Jak was wondering what I was getting everyone into!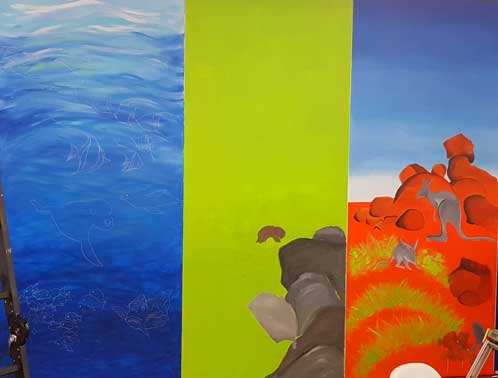 Each week we progressed a little further a little further.I spent most of my days painting animals and teaching members different techniques in painting rocks, helping them block in fish and animals with gesso before the colour was applied. i was very proud of Bryan, one of the members who persisted through a day of pain to produce this really cute sea lion. 
Until finally on the 1st of Feb 2019 we were finished. The last animal to go on the wall was the rainbow lorikeets which I had kept until last as they bring me so much joy.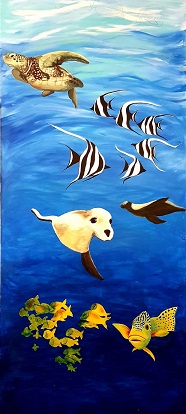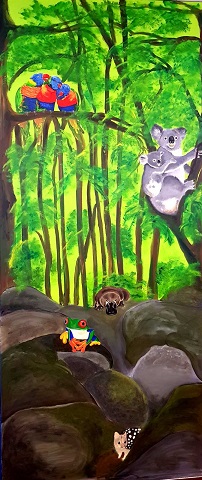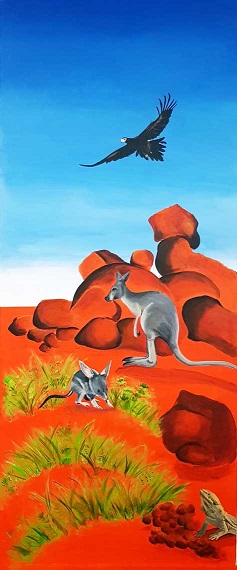 sorry about the sizing differences sometimes my resizing leaves a little to be desired but they are all the same size in real life.