It was such a pleasure tonight to be teaching a wonderful group of ladies at Scrappin with Style @ TJ's at Mayes Avenue, Logan. 
Tonight we focussed on how to journal emotions. To weave into our art things that we don't feel we can say out loud. To express things through art that we can't express in words. 
So as homework before class everyone came with something they wanted to explore and work through. This is a little bit of art therapy in there. We decided to create something a bit special and in some cases, representative of what was underneath in words. 
Symbolism can play a big part of these kinds of pages and although we were working through some stuff that we didn't want to talk about and it affected us, we worked through different creative ways to express this on our page. 
Each month I run a mixed media art journalling class at TJ's and we have a ball. At $35 it's worth it to learn new techniques and styles each workshop and to produce something that a lot of my students didn't think they were capable of when they began.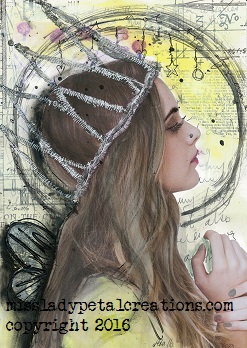 Each month we are exploring new things and learning together. 
Next month we are going to be starting on a journey to lead on with drawing faces. but before we do that we are going to learn how to do paint over collage. This is not quite as simple as it sounds but it is easier than you think!
Here's a teaser of the sort of pages we could be creating next month.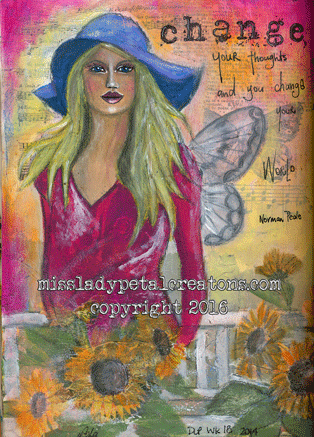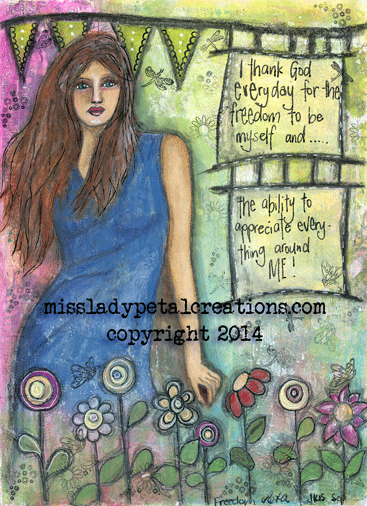 Cheers. I hope to see you at TJ's next month on 25th November @ 5.30pm
Today I released two video's on my Youtube channel: Missladypetal Creations
The first is my latest vlog which you can find here:
I'm chatting about what my life has been like in the last couple of months. Phew glad it's all over at the moment really but some exciting possibilities coming up.
And secondly and what has taken me most of the day to finish is my latest process video:
I had a lot of fun with this one and got to play around with some more brave girl headwear. What you can't see here is the beautiful shimmering wink of stella pen I used randomly in her hair and for her crown. I'm just loving her innocent face and the cornelli work dress i designed for her.